Applications:
Acute Wounds
- Burn wounds
- Surgical wounds including donor site wounds, cosmetic surgical wounds, ostomy wounds, wounds of circumcision, obstetrical wounds
- Pressure wounds
- Bruise wounds
- Amputated limbs
Chronic Wounds
- Diabetic ulcers
- Pressure ulcers
- Soft tissue necrosis
Mechanism
Product Advantages:
Accelerates wound healing by activating and sustaining the intrinsic regenerative potential of the skin and cultivating epidermal stem cells in situ and in vivo.
Covers and protects wounds from infection and contamination.
Utilizes breathable net-like gauze impregnated with MEBO Wound Ointment. which itself contains a unique micro-network formed by beeswax and sesame oil.
Accelerates liquefication of necrotic tissues to allow their easier and less painful removal with minimal injury of the residual viable tissues on the wound.
Maintains wound in a physiological moist environment.
Minimizes pain and the use of analgesics.
Promotes quality of healing by reducing scarring.
Direction for Use:
Open the overwrap of the product, and take out the inner pack and the self sticking dressing pad through sterile operation. Open the inner pack and take out the oil-containing dressing and cover the wound directly (the dressing should stick to the wound closely), and then cover the self-sticking dressing pad. When changing dressing, the self-sticking dressing pad and the oil-containing dressing should be removed softly, and then sterile gauze (or sterile sanitation towel, or cotton ball soaked in sodium chloride) is used to wipe the residual ointment and liquefied matter on the wound softly (pay attention: detergent or water is forbidden to wash the wound). New oil-containing dressing is applied. Onece a day or twice a day for patients with relatively large amount of exudation until the wound heals physiologically.
Storage:
Room temperature
* Regulatorially approved in China as a medical device
Specification:
Soft cloth adhesive wound dressing impregnated with MEBO Wound Ointment.
Dressing size: 40mm x 60mm
we also have such specifications as 10*12 3.5*16 4*10 4*4 6*12 If you want to order the specifications above, please contact us by inter@mebo.com
Each package contains
- Soft cloth dressing impregnated with MEBO Wound Ointment.
- Self-adhesive pad for the dressing.
Chronic wound regeneration
Chronic wounds (or skin ulcers) account for approximately 6 million skin wounds in the United States and 37 million skin wounds globally. "World Wound Care Markets 2008" Kalorama Information May 2008, New York. Pressure ulcer wounds account for the largest portion of these figures with an estimated 2.5 million each year in the United States and 9 million around the world. This is primarily due to an aging population and the increasing number of elderly that have debilitating disorders that restrict movement or provide an impetus for skin breakdown. Diabetic ulcers are an area of increasing concern with the rising incidence and prevalence of diabetes around the world. More than 2.3 million Americans are treated for a diabetes related skin ulcer each year and approximately 20 million diabetics experience these ulcers annually.
Compared to acute wounds, chronic wounds represent a greater medical challenge due to various complicating factors. A chronic wound is defined as a break in the skin of long duration (>6 weeks) or frequent reoccurrence. A myriad of factors can delay wound healing, such as chronic diseases, vascular insufficiency, diabetes, neurologic defects, nutritional deficiency, advanced age, and local factors such as pressure, infection and edema. A thorough and systematic evaluation of a patient with a non-healing wound is generally required to determine the etiology and likelihood of responding to therapeutic interventions. Etiologically common chronic wounds include venous ulcers, arterial ulcers, diabetic foot ulcers, pressure ulcers, vasculitis, and pyoderma gangrenosum.
Depending on the etiology and the condition of the wound bed, the wound care profession can choose from a wide variety of treatment modalities utilizing various products and/or devices to enable the healing. The wound care products include various wound dressings (gauzes, films, hydrogels, hydrocolloids, alginates and hydrofibers, and foams), ointment (e.g., calmoseptine ointment), paste (zinc oxide paste), Vaseline petroleum jelly; compression dressings to relieve edema and stasis. Recently topical negative pressure devices (or vacuum-assisted closure (VAC) devices) have been developed to hasten wound healing. Moreover, a few types of biological wound care products are developed to aid wound healing, including recombinant human platelet-derived growth factor isoform BB (becaplermin; Regranex®), allogenic and synthetic skin substitutes. Fonder et al. (2008) "Treating the chronic wound: A practical approach to the care of nonhealing wounds and wound care dressings" J. Am. Acad. Dermatol. 58:185-206.
Despite of the availability of a myriad of such wound care products and devices, it still remains a major challenge to heal late stage chronic wounds which, if not healed, could lead to serious complications and threaten the patient's life (Figure 5.0.1), including A) Marjolin's ulcer in nonhealing pressure ulcer; B) Infection with malodorous green or blue exudates; C) Infection as shown by dark red granulation tissue that bleeds easily on contact; D) Maceration; E) Eschar; F) Dry wound; and G) Skin tears as a result of certain strongly adherent dressings. Fonder et al. (2008), 189, supra. In addition, long-term and high-dose usage of biologic local agents such as purified recombinant human growth factors may increase the risk of developing cancer in patients. On the other hand, application of antibacterial local agents to the wound may passively inhibit microorganism but significantly impede regeneration of the wound. To many physicians or practioners, closure of the wounds is an outcome satisfactory enough; regeneration and restoration of the physiologic structure and function of the affected body part remain unattainable.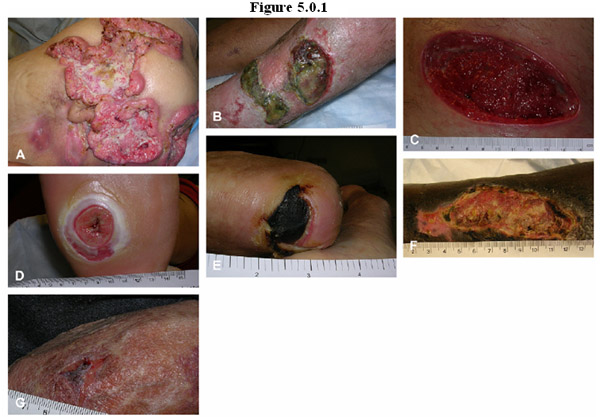 MEBO's regeneration therapy and products have been used to successfully treat various chronic skin ulcers, including diabetic ulcers, pressure ulcers, venous stasis ulcers and artery ulcers. Interestingly, MEBO wound ointment has found to be able to locally stimulate regeneration regardless of the etiology of different types of ulcers, and to steadily sustain fresh, healthy granulation tissue growth over a long period of time, eventually leading to healing of the wound and significant restoration of structure and function of the body.
First apply MEBO wound ointment onto the wounds. Until the leakage of write effusion four hours later, the wounds are treated with BRT with MEBT/MEBO for the skin ulcers regenerative healing. If no leakage of write effusion after 4 hours, smear three times regular dosages of MEBO wound ointment onto the wounds, and then cover with MEBO dressing. 12 hours later, change the dressing. Treat with BRT with MEBT/MEBO after the leakage of the effusion, if no leakage happens, repeat the methods stated above until the leakage happening.
Diabetic ulcers
Case 1:

Case 2:

Case 3: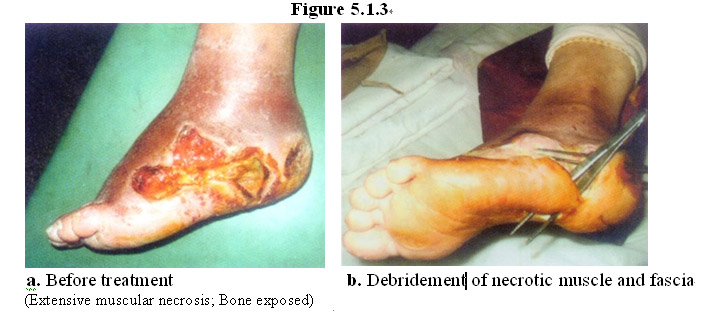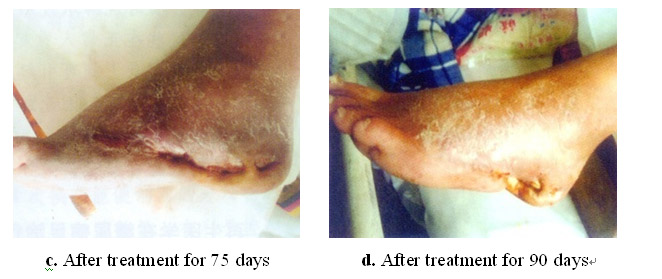 Case 4: Male, age 75, diabetic, left ankle ulcer not healed for 2 years, treated with MEBO wound dressing for 35 days, change dressing daily.

Case 5: Patient treated with MEBO wound dressing and wound close to healing on day 10.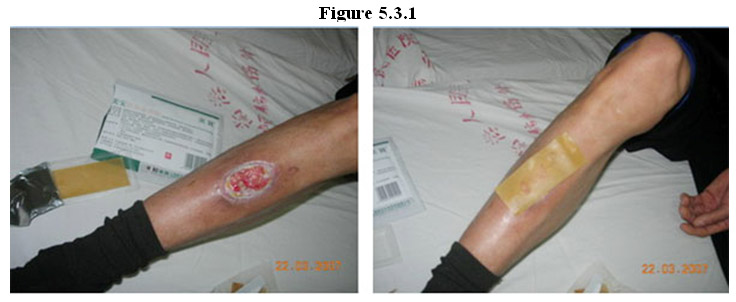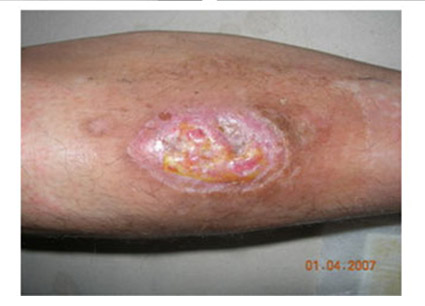 Bedsores
Case 1: Male, age 82, paralyzed for 8 years, 12 pressure ulcers developed.

Case 2: Male, age 61, left-sided paraplegia after cerebral hemorrhage, infected pressure ulcers of the sacrum and left upper limb.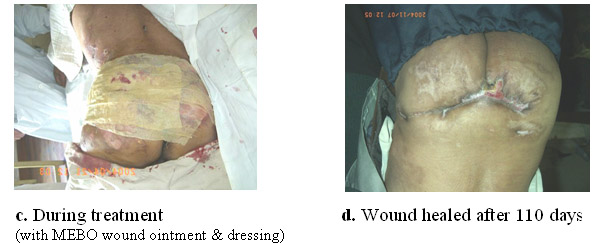 Case 3: Male, age 36, quadriplegic, with pressure ulcer of the sacrum.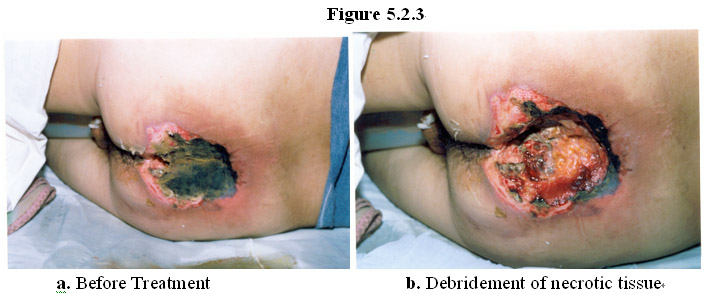 Trauma wound regeneration
2.1 Regeneration of Wounds on Thighs and Hips caused by Blunt Forces with Deep, Massive Loss of Tissues and Damages to Nerves
For blunt trauma wounds with deep massive tissue loss it is difficult to sustain granulation tissue growth. Recently negative pressure wound therapy has been developed to promote granulation tissue growth and skin graft incorporation on the wound bed. However, repairing wound with massive scar tissues typically causes contracture, disability and sometimes paralysis due to impaired nerve functions. Most of the time tissue flaps or transplants are needed for reconstruction. Oftentimes infected massive wounds could lead to amputation or threaten the patient's life.
MEBO technology and products have been used to successfully regenerate massive hypodermal tissue including muscle, tendon, ligament, and most importantly, nerves and blood vessels of trauma patients, which fill the large tissue defect and minimize the risk of amputation and significant loss of bodily function.
Shown below are exemplary cases of using MEBO regenerative therapy and wound ointment to treat trauma patients, including earthquake victims.
On May 12, 2008 strong earthquakes of 7.9 magnitude struck Sichuan Province of China, which caused ninety thousands of death and wounded about a quarter million people. Dr. Xu led China's wound experts to the disaster zones and personally supervised treatment of many wounded victims by using MEBO's regeneration therapy in conjunction with MEBO wound ointment and dressing.
Shown in Figure 3.1.1 is a quake victim (age 36) with multiple open, deep wounds, especially in the right thigh that sustained a 25x20 cm2 wound injury with muscular necrosis and severe sciatic nerve damage. Three months later regeneration of hypodermal tissue under the condition provided by MEBO ointment resulted in significant restoration of structure and function of his leg, including sciatic nerves.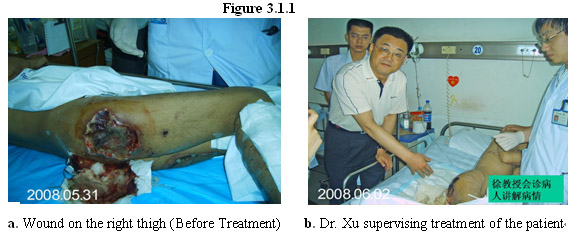 2.2 Regeneration of Wounds on Foot with Severe Crash and Infection
The left foot of a nine year-old girl was severely injured during the May 12 earthquake with an open, infected wound (Figure 3.2.1). Dr. Xu supervised her treatment by using MEBO's regeneration therapy coupled with negative pressure wound therapy provided by an Israeli medical rescue team volunteering in the quake zones. Under the condition provided by MEBO ointment, a skin flap was successfully engrafted to allow regenerative healing of her wound, thereby avoiding amputation of her leg.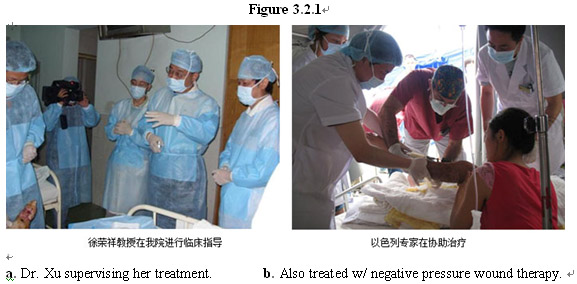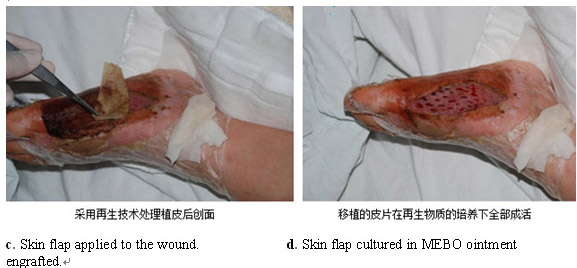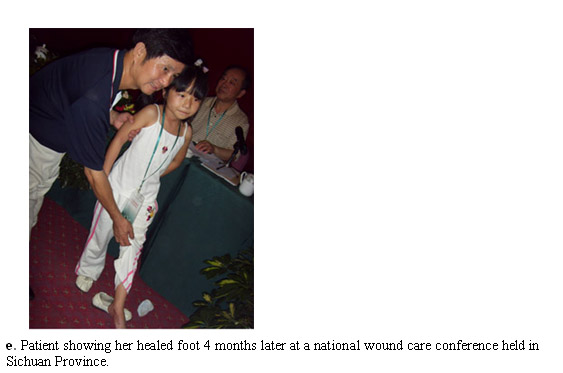 2.3 Regeneration of Wounds on Face with Bone Exposed
In this case, MEBO's regeneration therapy and wound dressing was used to treat a earthquake victim with wound on her face and bone exposed (Figure 3.3.1). By applying MEBO wound dressing to her wound, the skin and underlying tissue were regenerated without leaving apparent scars on her face.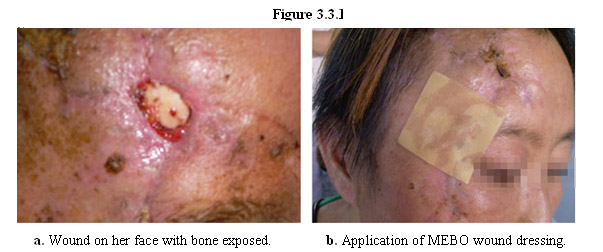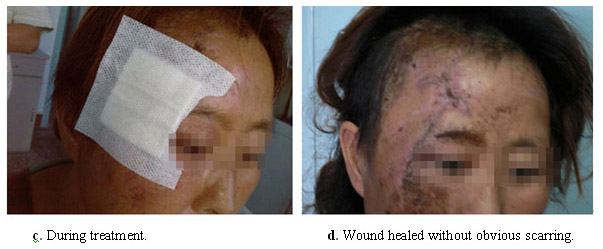 Attribute №1
Expiry Date
2 years
Attribute №3
Package
bag
MEBO Wound & Ulcer Dressing
Brand: MEBO
Product Code: 4
Availability: Out Of Stock